From the many enquiries we receive our clients understand the whisky distilling process, but don't have much knowledge in respect of the purchasing process? 
This is the question a lot of clients ask, especially if they are looking at whisky casks for the very first time.
Below is Whisky Investment UK's 6-part guide to purchasing whisky. What potential buyers need to consider and what to look out for. Whisky has been around for 500 years so, there is never the need to rush into buying a cask without knowing all the facts so you can make an informed due diligence decision.
1. The whisky Company you are buying from.
Statistics state there are currently twenty million casks of whisky maturing in Scotland, that's four casks per resident!
As the Tax and Duty is not due on whisky until it is bottled, HMRC heavily regulate any company who stores bulk and whisky casks held in suspended duty.
The licence given to a revenue trader is called a WOWGR, which stands for Warehouse keepers and Owners of Warehoused Goods Regulations.
This is only issued to a company after several months of Due Diligence carried out by His Majesties Revenue and Customs (HMRC) these stringent checks are on both the company and its directors as they are ultimately responsible for the tens of millions of pounds worth of unpaid duty.  
This license is only needed if you are a revenue trader. 
Whisky Investment UK will issue you with an HMRC Revenue / non-Revenue Status Declaration document to complete at the point of sale.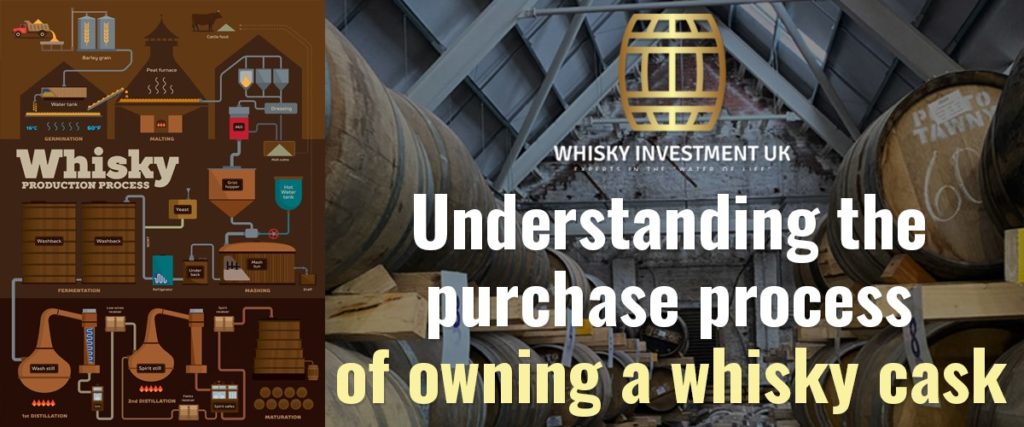 2. The stock list (cask list with current prices)
Like buying any asset / product, you should really be shown a full list of what is available including the prices before deciding. Many companies are reluctant to share this information with you instead, only presenting 1 or 2 cask options in your price range often with a commission-based sales team behind the process.

Whisky Investment UK are one of only a small handful of companies that issue a full and transparent stock list each month, due to the fact we have a set price commission per cask approach.
3. Choosing the right cask
With over one hundred casks to choose from, the next stage in the process is to choose the right cask that suits your investment strategy.

The great advantage whisky has over other asset classes, such as property is affordability. With casks priced from £5,000 to £300,000 there is a cask for most client's budget.

All casks will perform differently, based on the quality of the spirit, the age, even down to the type of wood the cask is maturing in.

Below are some key questions that would help identify which casks would work better for you.

• What do you want to set your budget at?
• Although not set in stone, how long would you ideally like to keep the cask?
• Is there a region in Scotland you prefer?
• Do you prefer single malt or single grain?
• Do you intend to bottle your cask, part bottle, or sell as a cask with no CGT?
• If buying as a gift or investment for children or Grandchild?


4. The management of the cask
The most important part of the process is the paperwork and the management of your cask. Paperwork should include a sales invoice, sale and purchase agreement, sales receipt, ownership documents and an HMRC Revenue / non-Revenue Status Declaration document. We can also issue clients with a delivery order on request.
Whisky Investment UK are immensely proud to have been Awarded "The Best Whisky Investment Management Specialist" at the UK Enterprise Awards 2023. This nationally recognised award is evidence of the careful and personal way in which we handle all our clients and their investments.
5. Storage and insurance costs
To store and insurer a Barrel (200L) or a Hogshead (250L) the cost is around £56 a year, with a BUTT (500L) at £100 a year. Storage is often very overlooked with a standard broker in that most cask is simply sold and sent for warehousing. Whisky investment UK have spent time personally visiting the many bonded warehouse facilities, and trust us when we say some are good, some not so. Our chosen bonded warehouse facilities are state of art, see that casks are turned when required and importantly checked upon for leaks or signs of cask timber fatigue. 
The other costs to consider is a re-gauge of the cask every 5 years. This is done by certain warehouses and checks the levels of alcohol and the ABV (the strength percentage).
6. Selling your cask investment in the future & TRUST
Selling your cask investment in the future & TRUST

Importantly, the cask always remains in your ownership so you should not be restricted to who can buy and sell your cask on your behalf, you should be free to choose any company to undertake future service for you, many companies offer this service as do we. Of course we would prefer to be your go to throughout but that is your decision entirely.

If you are selling the cask in suspended duty, it is most likely going to be sold to another buyer looking to take the cask for a further maturation period so as to increase their own investment. But the point we make here is that your
cask whisky, whilst held in suspended duty at a registered bonded warehouse is safe as houses and at your disposal. Not many other commodities can say that HMRC is closely monitoring the stock, of course HMRC are there to safeguard the VAT but in doing so stops the cask leaving its safe place of storage.

Casks are also sold at auctions and to independent bottlers. With only 32% of whisky exported being single malt and 59% blended, this is a exit route that should also be explored on exit.